CHAUVET
Professional:
Ovation
E-910FC
IP
Exterior
Ellipsoidal
CHAUVET Professional's groundbreaking color-mixing ellipsoidal is now ready for the great outdoors. Just in time for the warm weather months, the company has introduced the Ovation E-910FC IP. An IP65 version of the revolutionary Ovation E-910FC ellipsoidal, the new ERS Style fixture is ideal for outdoor theater, festival, and event applications. Here's a video overview of the E-910FC IP exterior ellipsoidal:

Featuring the same RGBA-Lime LED color mixing system as its non-IP cousin, the new fixture produces rich colors and bright whites as well as a flat even field of light for gobo projection, especially when paired with Chauvet Professional's IP rated gobo rotator, the GR-1 IP.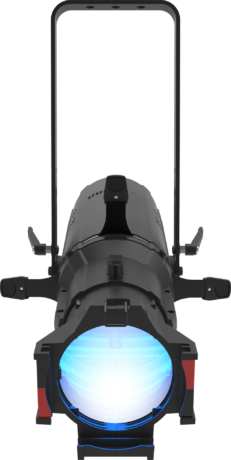 The Ovation E-910FC IP also includes CHAUVET Professional's standard beam shaping shutter assembly and lenses, as well as color temperature presets of 2,800 to 6,500K that match the output of a tungsten source to perfection. A virtual color wheel can also be used to match popular gel colors.
Ultra smooth 16-bit dimming, and 8-bit dimming curves result in smooth fades, and adjustable PWM (Pulse Width Modulation) avoids flickering on almost any camera, making the fixture well-suited for broadcast applications. Versatile and user friendly, the Ovation E-910FC IP also features RDM (Remote Device Management) making it a flexible lighting tool indoors or out.
More details from CHAUVET Professional: www.chauvetprofessional.com