The
Point
Source
Audio
Sounding
Board:
Combine
Show
Mix
with
Ops
for
All-in-One
Headset
Solution
by The Point Source Audio Sounding Board Blog
The Point Source Audio Sounding Board Blog caught up with Lighting director Matt Jones on the Ed Sheeran's ÷ Tour (pronounced "Divide Tour"), which originated in Turin, Italy March 2017 and is the third world concert tour by the English singer and songwriter. On its second stop in the U.S. at AT&T Stadium in San Francisco on August 21, 2018, Jones discussed how Point Source Audio became an integral part of the production tech. This is a solution that is just as viable for theater makers as it is for the concert touring industry.
Like most of us, Matt Jones only has one set of arms. But he had been operating like he had multiple sets switching frantically between audio and comms for months as the lighting director on the Ed Sheeran Divide Tour. This drove Jones' discovery and decision to choose the CM-i3 in-ear headset which he says has since "solved all the problems."
Before adopting the CM-i3 headset for Sheeran's tour, Jones was wearing just in-ear molds. When he needed to get on comms he would have to take his in-ears out in order to put on a Clear-Com headset. "My hands are tied up running the show so trying to take an [in-ear] out, and put a headset on and talk while still trying to run a show can be a little bit difficult—and you find yourself needing to have an extra two pairs of arms to do everything else you need," said Jones detailing his challenges before acquiring the CM-i3 headset.
"The [CM-i3] has freed me up to not worry about taking my [in-ears] out and then putting on a different headset; it means that I can keep my headset with my in-ears and still be able to communicate with spots, stage management, and the technicians," said Jones. It's improved the workflow so I don't have to take my attention away from running the show. I can still run the show and just click into the channel."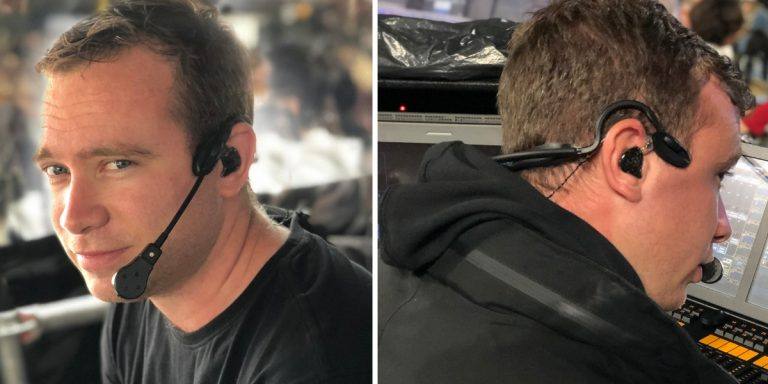 Workflow Simplified
Jones had been looking for a solution to be able to hear the show feed while still being able to speak on the comms system. He had looked at a number of options trying to mix audio into the comms system or trying to mix the comms system into an audio feed: "I needed control and it wasn't until I was introduced to the [CM-i3] headset that I found the perfect all-in-one solution that didn't require a great deal of extra hardware. It was very easy to integrate into the comms system and it was affordable and it was a good solution."
Matt's Custom In-Ear Solution
To accomplish the all-in-one audio plus comms headset, the feed from the Audio FOH mix is added to his Clear-Com FreeSpeak 2 body pack via a Fischer Amps In Ear Amp with an XLR to 3.5mm adapter. The amp itself has a volume control that can be adjusted to set the amount of show feed he wants into his in-ears.
To read the rest of this blog, please go to the PSA Sounding Board Blog.http://www.point-sourceaudio.com/2018/09/17/point-source-audio-cm-i3-headset-adds-audio-with-comms-on-ed-sheerans-÷-divide-tour/